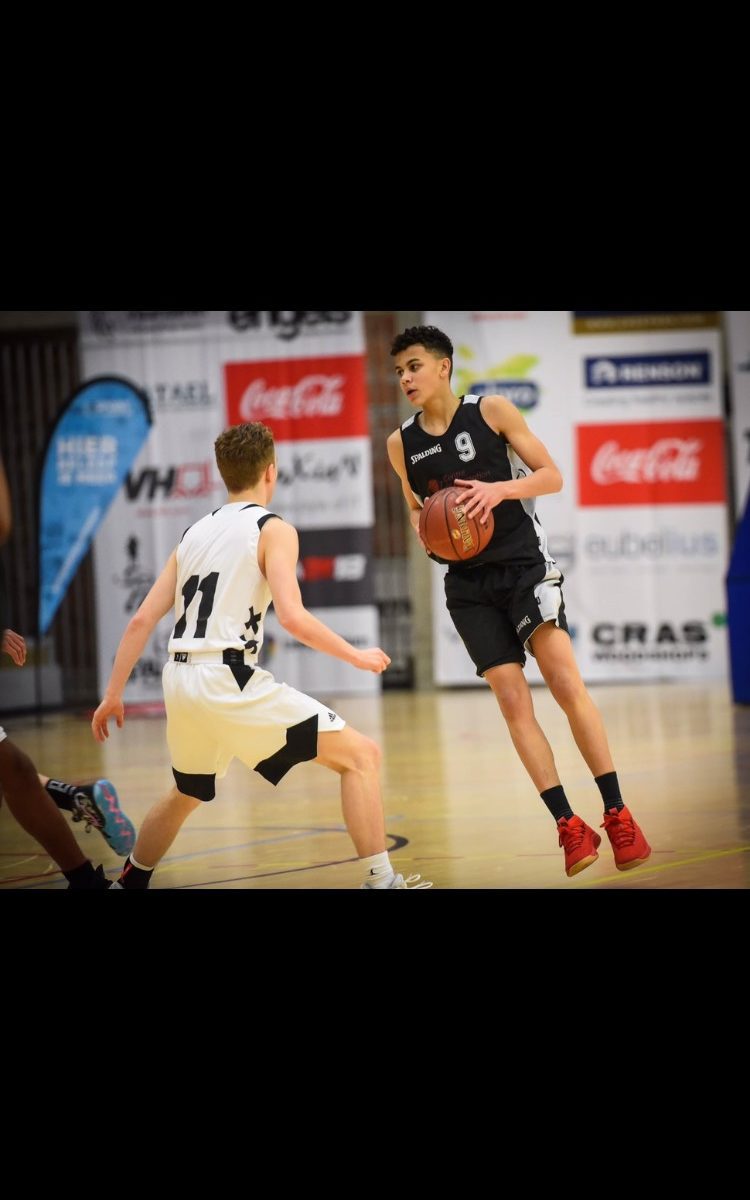 Like father, like son. Ajay Mitchell, just like his famous father, has a great deal of talent. Liège & Basketball takes you to discover the Centre de Formation AWBB's gem who will play in the Talento Game on June 1st.
Ajay, when did you start playing basketball?
I started in Huy when I was 4. I then played for Haneffe, Alleur and Liege Basket and I am now playing for the Centre de Formation AWBB, here in Jambes.
What kind of player are you?
I am a point guard. I am an offensive triple-threat that can either pass the ball, shoot or drive to the basket and I am capable of leading a team, but I still have work to do both physically and on the defensive side of the floor.
Do you have models, players that inspire you on how to develop your game?
Yes, D'Angelo Russel and De'Aaron Fox. I particularly like their game.
Barry, your father, is an ex pro-player with a tremendous career. Is it an asset to have a father that knows basketball as well as he does? Does he have a big impact in your development?
It definitely is an asset, because he loves to compare me to him and remind me that I still have a lot of work ahead.
What your wishes for the future? What are your objectives as a basketball player?
I want to go as far as I can. To become a pro and make my family proud.
You have played for the Centre de Formation AWBB in Jambes this season. Why is the Centre such a good place to develop your game?
The work we do there is just excellent. Just like in any other clubs, you have ups and downs, but rigor is a norm. We give everything at every practice, day in and day out, and by doing so we all help each other to become better. The work we do in preparation is very, very good. We have two athletic trainer who are both working with the national team, and thanks to them many players improve a lot. The coaching staff is also great, and they make us work on our weaknesses. And it is the same during the games. People use to criticize the Centre de Formation for anything and everything, and especially because we were playing in 1st regional. They think we should not be at this level because we don't win a lot of games. But this year, we have won more games, and we even did not finish last in the standing. We come to every game with the same mindset: we want to win, no matter who we play against.
By the way, how do you look back at this season with the Centre?
It was our second season in 1st regional, and this one was the best without a doubt.
You also played for the Belgian National Team last summer. What have you brought back from this experience?
I learned a lot during the European Championship. Wearing the Belgian jersey helps you realize you have the country on your back, that you have to represent it, but you also don't want to deceive your supporters. Facing other nations is also an amazing challenge.
Is it your best memories as a basketball player?
I have great memories from everywhere I have played, but the European Championship might be the biggest of all. It was kind of a door that opened for us, and we have discovered a lot of things. It is a great experience.
On June 1st, you will play in the Talento Game. What does it represent to you to be selected for this event?
It is kind of a reward after this season and it is always enjoyable to compete with so many talented young players.
What are your expectations for the game?
I just want to have a lot of fun and give the spectators the show they came for. After all, it is an All Star Game!
N.B. : l'interview en français est ici.